This post is the conclusion of our 3-part series on Building your digital industrial enterprise.
In Part 1 and Part 2 of this series, we looked at the key ideas behind the "Industry 4.0" transformation that is driving the evolution of industrial companies into true digital industrial enterprises - and the role that augmented reality (AR) technology is playing in that change.
In this conclusion to the series, we'll take a closer look at the kinds of future capabilities that augmented reality solutions will enable as organizations continue their journey to becoming digital industrial enterprises.
The first point to re-iterate is that the broad set of future capabilities will come from rolling out augmented reality solutions as part of a broader Industry 4.0 rethink of your business. That doesn't mean you need to 'boil the ocean' in developing your Industry 4.0 plans, but rather it means that you may want to look for pilot program opportunities that can help you achieve clear, demonstrable business wins in a number of areas as you build out all the new capabilities you want to realize your vision.
In the PwC 2016 Global Industry Survey we referenced in earlier parts of this series, you will see a chart (shown below) that offers a glimpse into the range of Industry 4.0 pilot opportunities you may want to explore (including Augmented Reality solutions under the "smart maintenance and service" value chain).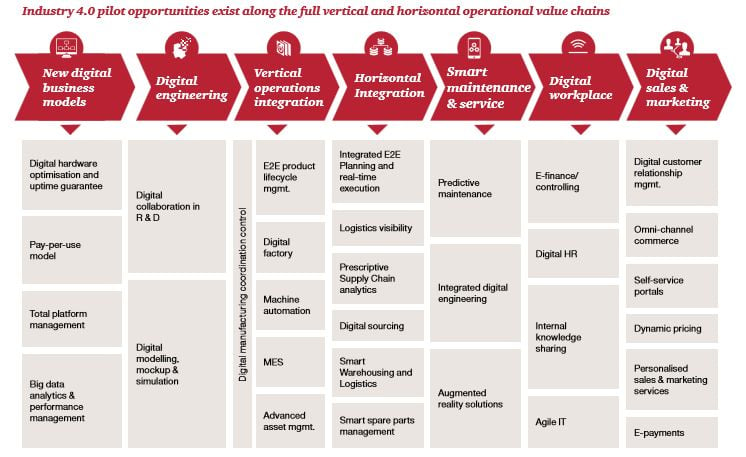 Chart from PwC 2016 Global Industry 4.0 Survey
Once you move beyond a pilot phase, you'll begin to see the kinds of future capabilities that augmented reality solutions (and many of the other technologies within Industry 4.0) will enable. Here are just a few of the AR-related capabilities that could be on that list:
Improved ability to scale the knowledge and experience of experts - Using AR technology, the work of experts on your team can scale a whole lot more effectively by cutting down the amount of time they need to spend travelling outside the office. Troubleshooting can instead be largely accomplished using remote expert features of products such as AiR Enterprise, allowing experts to help with more cases and reduce the time to resolve issues.
Tighter supplier relationships - Suppliers and customers who use AR technology to collaborate could see benefit from stronger working relationships, better collaboration and improved results for all concerned.
Better scenario support through data - Once you have a good AR system in place, you will be better-positioned to leverage the knowledge gained through troubleshooting specific issues. If, for example, you are using AR to allow a remote expert to help a mechanic repair a brake system, the data about that interaction - including the information resources eventually used by the mechanic and the instructions the remote expert gives the mechanic - will become part of a rich set of information available to anyone who encounters that same scenario in the future.
Moving from 'See What I See' into 'Share What I Know' - As digital industrial enterprises gather together more data on the results of "See What I See" interactions using augmented reality solutions, the repository of information they will hold about those interactions will help move future reactions toward 'Share What I Know' scenarios that will allow less-expert co-workers in the company to share and take on-board the knowledge previously only known to experts
These are just a few of the AR-related capabilities that digital industrial enterprises will enjoy as they move to enjoy the full benefits of Industry 4.0 and augmented reality. For more on this, see our recently-published eBook – Augmented Reality for Manufacturing: Changing the face of work.