Life is changing fast for manufacturing companies. Not only is the business of designing, making, shipping, distributing and selling finished goods becoming ever more global and competitive, but technology is ensuring that it is evolving at a pace that's tough to keep up with.
In addition, there are variety of external factors over which manufacturers have little control - including climate change, shifting regulatory environments, and upheavals in international trade agreements.
All of these factors mean that manufacturing companies need to be more agile, thoughtful and innovative than ever in how they do business. We recently published an eBook - Augmented Reality for the Manufacturing Industry - looking at the high-level challenges facing the manufacturing industries and how technology - particularly augmented reality solutions - can help meet those challenges.
To give you a taste of the insights in this eBook, we offer a few highlights that summarize some of challenges and opportunities facing the manufacturing sector. They include:
Tackling the skills shortage that manufacturers are increasingly facing due to an aging workforce and the changing nature of manufacturing itself
Managing the demands of a global supply chain that requires strong, effective, tight collaboration between different manufacturing sites, as well as a broad range of international suppliers, to prevent significant downtime
Properly leveraging the huge amount of data available through the implementation of the IoT-based automated manufacturing scenarios that underpin "Industry 4.0" (detailed in our recent series on Building your digital industrial enterprise).
These challenges are closely tied to one another, starting with the skills shortage.
Skills shortages, as they relate to innovation, were highlighted in the recent 2017 Global Digital IQ Survey conducted by consulting giant PwC. The company surveyed 2,200 executives from enterprises in 53 countries.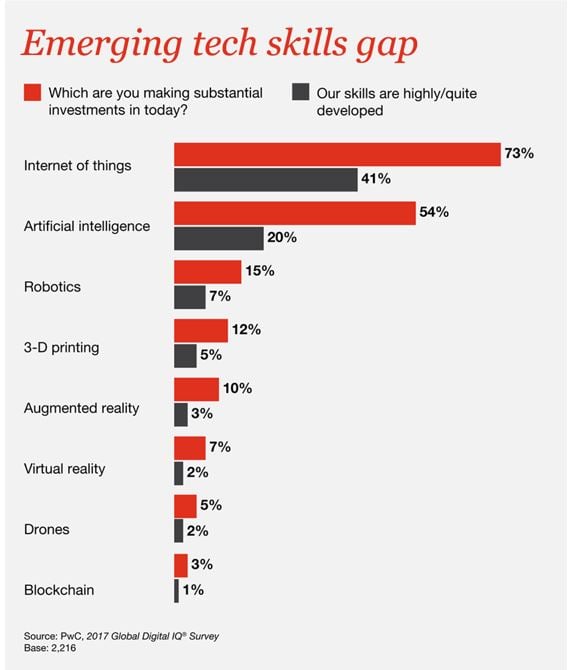 Chart from PwC's 2017 Global Digital IQ Survey.
As you can see from the chart above, there is a significant skills gap relating to every listed area of technology investment that companies might use to improve their competitiveness. In many cases, only half (or less) of respondents said that their company already had the skills needed to effectively use a given technology (such as "Internet of Things", or IoT) when compared to the percentage of respondents that were investing in that technology.
Meanwhile, global nature of modern manufacturing means when there are issues that hold up a manufacturing line, manufacturing companies need to have fast and efficient ways of resolving those issues. They need to leverage the experience and skill of those who made the parts or equipment with which they are having problems - no matter where they are in the world.
Augmented Reality (AR) solutions provide a fast, low-cost and effective way of meeting this challenge head-on through the use of smart glasses, remote experts and "See What I See" features within AR applications.
The payoff for this kind of investment is clearly measurable by looking at downtime costs. In our eBook, we look at scenarios where, for example, the lack of on-site expertise to quickly solve a manufacturing problem is costing a company $1 million or more an hour.
In that circumstance, any sensible manufacturer is going to fly someone out on a very fast plane to make whatever fixes are needed to get the manufacturing line up and running again. Wouldn't it be better, however, to just virtually "beam someone in" to solve it without spending the time and money to fly someone in (with all of the waiting and additional expensive downtime that represents)?
A lot of field services groups report that they actually fly people twice. One person goes out and realizes they can't fix a problem, but they have a colleague who can - and that person needs a different tool. Then you've got two people who had to fly in - and you've taken three or four days to get there. And, in the meantime, millions of dollars in downtime have stacked up.
That's why accurately calculating downtime should be a part of how you plan for AR – and think about the return on an AR investment. It's where AR can really make a huge, measurable difference.
For a lot more on how Augmented Reality can help manufacturing companies re-invent their businesses, download our eBook.