Atheer CEO Soulaiman Itani Shares His Insights on AR Prospects for the Coming Year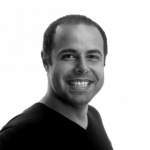 Making predictions is a tough business, but it's what drives both innovation and planning.
Having been in the Augmented Reality (AR) sector since 2012, we've already seen a tremendous amount of growth and evolution - and, for the coming year, we predict a lot more! Here are our top predictions for AR in 2018:
1) The price of AR hardware will come down in 2018
There are many factors that will drive these price drops. One will be the economies of scale introduced as components used in new consumer-targeted AR and VR devices become part of new, more keenly-priced AR hardware aimed at the enterprise. In addition, the improved foundation for the development of smartphone and tablet-based AR applications by Apple's iOS 11 (through its ARKit framework) and Google's ARCore will also drive greater interest in AR applications (and use of AR-capable devices).
2) Insights from data will be increasingly vital
One of the least-understood values of an AR industrial solution lies in the kind of business intelligence that it can provide. For example, good AR solutions can yield data about the effectiveness of step-by-step instructions delivered to workers through AR hardware (such as smart glasses). Analysis of this data could provide a vastly-enhanced understanding of the work being undertaken by industrial enterprise workers – and yield insight on how to improve work processes.
3) Artificial Intelligence and Machine Learning will make AR better
Given that AR provides a much richer way of interacting with technology than every previous broadly-available technology, the Human Machine Interface (HMI) data derived from interactions with AR systems offers the potential to revolutionize interaction accuracy and effectiveness. As greater number of workers interact with AR systems through head motion, gestures and voice, smart cloud-based AR solutions will be able to apply AI and ML principles to refine and improve ways of interacting with AR devices. You only need to look at how this process of iterative improvement has played out in voice interactions with Amazon Echo (Alexa), Siri, Cortana and Google Home over the last couple of years to imagine the possibilities. All of those devices "learn" and improve accuracy by leveraging data from broad use.
4) Hardware will become more powerful
The 2018 Deloitte Global Predictions report points to new AR-capable smartphones as driving hardware improvements. It says that Deloitte expects "about 800 million smartphones to have both an OS with dedicated AR support and sufficiently powerful hardware - central processing units (CPUs), graphics processing units (GPUs), digital signal processors (DSPs) and neural chips - to power them". The report also predicted that smartphones which include depth sensors - of which it says more than 100 million may be available by the end of 2018 - will "enable devices to work with depth information, providing more accurate augmentation and scanning of 3-D objects using the front-facing camera".
5) Form factors will evolve and become more flexible
As hardware comes down in price and becomes more powerful, it will be possible to offer greater flexibility in form factors for AR devices. Newer devices such as RealWear's HMT-1 and Vuzix's Blade smart glasses (which act as a "smart display" for smartphones) provide a couple of existing examples from this year - and we expect many more innovative (and even more keenly-priced) offerings to hit the market in 2018.
6) The beginning of homogenization of the AR ecosystem
The current AR ecosystem is not unlike that of the smartphone ecosystem prior to the launch of the Apple iPhone in 2007. While there were lots of smartphones around prior to the iPhone (think the BlackBerry Curve, HTC's Windows Mobile range or the Danger Sidekick series), they did not benefit from a coherent operating system, software or human interaction story. Some phones required the use of physical buttons, others required you to use a stylus or a tiny trackball - and none really gained any significant traction with developers. The unveiling of the iPhone in 2007 and the 2008 launch of the first Android phone changed all of that. We will see the same kind of trend in AR - as the current extremely fragmented market begins to standardize around certain operating systems, APIs, hardware form factors and Human Interaction standards. We expect to see the seeds of the first viable standards for AR to be planted in 2018 and then flower in 2019-2020.
7) The ROI realized by early adopters will get their competitors in every industry to stand up and take notice
Our own recent experience working with Porsche Cars North America, Inc. is a great demonstration of this. In its Nov. 20, 2017 announcement of Porsche Tech Live Look, an Augmented Reality technology designed to improve technical services at Porsche dealerships in the United States, Porsche Cars North America said that its AR solution (which uses Atheer's AiR Enterprise in conjunction with lightweight smart glasses) can "help decrease service resolution time by up to 40 percent". Numbers like this will no doubt spur other enterprises to at least begin pilots of AR solutions soon. Companies that took the plunge in AR pilots in 2017 will begin reporting the benefits of their success in 2018 – and pressure will start building on enterprises who have ignored AR as "not being ready for prime time".
8) 5G will be a big driver for AR
As global telecoms companies move their infrastructure to 5G (the next, smarter, faster standard for mobile data from traditional mobile phone carriers), it will make richer use cases such as AR more realistic and affordable. According to AT&T, 5G will provide a particularly good way to blend the power of Edge Computing with sometimes demanding uses case such as AR. The idea is that although 5G will provide really fast throughput of data, you may still need a lot of processing power to work with that increased volume of data. In announcing a new edge computing test zone in Silicon Valley last month, AT&T explained how it sees 5G, AR and Edge Computing together. "Edge computing solves the challenge of how to offer high-performance, power-hungry applications on mobile devices," said the company. "With edge computing, we'll install graphics processors and other computers in cell towers, small cells and other parts of our network that are never more than a few miles from our customers."
9) AR will continue to move to the cloud
We'll see an increasing recognition that for AR applications to be continually optimized - and self-maintained - those applications will need to operate in the cloud. AR will join the ranks of other enterprise applications that have migrated to the cloud, as customers realize the value of getting seamless, continual updates to their AR applications and easy, secure synchronization of regularly-updated core business data with integrated enterprise applications.
10) We will be surprised by use cases that customers will come up with
While we have some strong ideas about the huge value that AR can deliver across many industries and job roles, we know that we don't know it all. There will be customers who take our solutions and use them in ways that we have not yet dreamed of. We look forward to hearing about more of them in 2018!
We've got lots more ideas about where AR will head in 2018, but if you really want to hear more, get in touch with us and we can talk about it.
Happy New Year!