Customers will now be able to use Google's popular single sign-on (and other SAML based solutions) for enterprise security as well as have access to AiR™ Enterprise features when using the RealWear HMT-1
MOUNTAIN VIEW, CA, JANUARY 25th, 2018 -- Atheer Inc, a leading provider of enterprise class Augmented Reality solutions, today announced that the latest update of its Atheer AiR™ Enterprise software now supports both the RealWear HMT-1™ Head-Mounted Tablet and the SAML (Security Assertion Markup Language) identity standard used for Single Sign-On (SSO) by many enterprise cloud applications (including those offered by Google).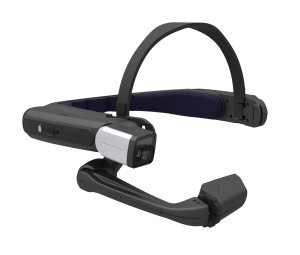 Vancouver, WA based RealWear's HMT-1 is designed for skilled technicians and engineers in field service, equipment inspection, maintenance and complex manufacturing assembly as a fully rugged "industrial wearable" that can work in conjunction with the hard hats and safety goggles required in many construction and industrial environments. The HMT-1's unique noise cancellation technology permits accurate hands-free voice driven use in noisy industrial environments. With AiR™ Enterprise running on the HMT-1, industrial workers now have a solution that allows them to work hands-free without needing to use the kinds of smart glasses that may not be appropriate for their work environments.
"We've been delighted to support Atheer's optimization for voice driven, noise robust hands-free usage in the latest version of AiR™ Enterprise on the HMT-1", said RealWear President and CPO Sanjay Jhawar. "The result is a welcome solution for industrial enterprise customers in the most challenging environments."
The addition of support for Google Single Sign-On - and other identity solutions based on the SAML (Security Assertion Markup Language) standard - provides further assistance for customers wanting to integrate Augmented Reality solutions with their existing enterprise applications and cloud infrastructure - delivering both strong enterprise-grade security, while providing greater ease of use.
Other features introduced in the latest update to AiR™ Enterprise include the ability to see the device manufacturer and model of AR hardware used with each instance of a taskflow (greatly assisting in troubleshooting) as well as Amazon ECS-Optimized AMI (providing better support for enterprises using the Amazon Elastic Container Service).
These new capabilities are in addition to the rich set of existing features already enjoyed by AiR™ Enterprise customers today. These include full encryption, taskflow history and synchronization, taskflow reporting and auditing as well as "see what I see" videoconferencing for instant access to remote experts, in-view contextual documentation and step by step task guidance.
"We are excited by the greater range of use cases that our support for the RealWear HMT-1 and Single Sign-On enables for our customers," said Soulaiman Itani, Chief Executive Officer and Founder of Atheer. "We listen to what customers tell us they need - and the need for both greater hardware choice and greater ease of use are high on their wish lists."
About Atheer, Inc.
Established in 2012, Atheer is setting the standard for AR in the enterprise and improving the productivity, quality, accuracy, and safety of industrial workers. The award-winning Atheer AiR™ Enterprise solution provides "See What I See" video collaboration and taskflow management to empower the 21st century workforce in areas such as Automotive, Industrial, Logistics, Manufacturing, and Transportation. Powered by more than 37 patents issued and 51 pending, and validated with key customers including Masimo and Porsche North America, the Atheer platform provides an out-of-box solution for enterprises. The company also recently announced that its AiR™ Experience technology is driving the AR interaction module and enterprise software support for the Flex Augmented Reality (AR) Reference Design introduced by Flex Ltd (NASDAQ: FLEX) for use by augmented reality hardware manufacturers around the world. Visit AtheerAiR.com or follow us on Twitter @AtheerAiR.
To request a demonstration of the latest version of Atheer AiR™ Enterprise, click here.