Users of Toshiba's dynaEdge™ AR Smart Glasses will be able to use the touchless, gesture-based interaction, remote subject matter calling, contextual documentation, barcode scanning and step by step task flows provided by Atheer AiR™ Enterprise.
MOUNTAIN VIEW, CA, MARCH 15, 2018 – Atheer Inc., a leader in industrial enterprise augmented reality (AR) solutions, today announces a strategic partnership with Toshiba's Client Solutions Division (CSD), a division of Toshiba America Information Systems, Inc., to make its flagship Atheer AiR™ Enterprise AR solution available to Windows 10 users for the first time on Toshiba's just-announced dynaEdge™ AR Smart Glasses.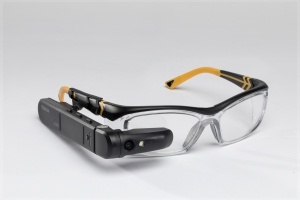 Using AiR Enterprise, the new Toshiba dynaEdge AR Smart Glasses offer an ideal solution for industrial applications such as field service, dealer service, manufacturing and repair operations, assembly line management, technician and expert training, warehouse picking, asset inspection and repair as well as remote visualization and support.
The award-winning AiR Enterprise AR solution, available in the second quarter of 2018 on Toshiba dynaEdge AR Smart Glasses, is an integrated suite of capabilities designed to meet the needs of today's industrial enterprises including:
See-What-I-See (SWIS) video conferencing through remote communications
User point of view (POV) photo and video capture using the embedded camera
Configurable step-by-step task guidance (with touchless, gesture-based interactions)
Barcode scanning and info display
Detailed task and workflow process analytics
Easy integration with other enterprise systems
Enterprise grade security: on-device, in-transit, and at-rest.
"We are delighted to partner closely with Toshiba on the development of a uniquely-powerful implementation of our award-winning AiR Enterprise application optimized for Windows 10 on Toshiba's new dynaEdge AR Smart Glasses," said Atheer co-founder and CEO Soulaiman Itani. "We believe that this relationship will provide a huge boost for enterprise customers who have been waiting for exactly this kind of Windows 10-based enterprise AR solution from a world-class hardware manufacturer."
Toshiba's new dynaEdgeTM AR Smart Glasses packages together the company's new dynaEdge AR100 Head Mounted Display (HMD) with its dynaEdge DE-100 Mobile Mini PC for a completely wearable PC system maximizing mobility, productivity and security.
"Partnering with Atheer is a natural fit and allows Toshiba to deliver an enterprise-ready, Augmented Reality solution for users of our new and powerful dynaEdge AR Smart Glasses," said Carl Pinto, vice president, marketing and engineering, Client Solutions Division, Toshiba America Information Systems, Inc. "We are particularly excited by the fact that Atheer brings its award-winning AiR Enterprise software and its unique touchless, gesture-based interactions to our smart glasses. Throughout our collaboration, Atheer has proved to us that it has the experience and technology leadership to be the right AR solution provider in this emerging space."
The implementation of AiR Enterprise for the Toshiba dynaEdge™ AR Smart Glasses marks the first time it has been offered natively on Windows 10, although Atheer has been providing users of Android-based smart glasses with industrial augmented reality solutions since 2012.
About Atheer
Established in 2012, Atheer is setting the standard for AR in the enterprise. Our products are designed to improve the productivity, quality, accuracy, and safety of industrial workers. The award-winning Atheer AiR™ Enterprise solution provides "See What I See" video collaboration and taskflow management to empower the 21st century workforce in areas such as Automotive, Industrial, Logistics, Manufacturing, and Transportation. Powered by 46 issued patents - and validated with key customers including Masimo and Porsche Cars North America - the Atheer platform provides an out-of-box solution for enterprises. The company also recently announced that its AiR™ Experience technology is driving the AR interaction module and enterprise software support for the Flex Augmented Reality (AR) Reference Design introduced by Flex Ltd (NASDAQ: FLEX) for use by augmented reality hardware manufacturers around the world. Visit AtheerAiR.com or follow us on Twitter @AtheerAiR.
About Toshiba America Information Systems, Inc. (TAIS)
Headquartered in Irvine, Calif., TAIS is comprised of three business units: Client Solutions Division, Imaging Systems Division and Industrial Solutions & Services Division. Together, these divisions provide digital products as well as services and solutions, including award-winning mobile computing devices, security solutions and cloud services; imaging products for the security, medical and manufacturing markets; and IoT solutions development, data analytics and IT services. TAIS provides sales, marketing and services for its wide range of products in the United States and Latin America. TAIS is an independent operating company owned by Toshiba America, Inc., a subsidiary of Toshiba Corporation. For more information on TAIS visit us.toshiba.com.
Atheer Press Contact

Geof Wheelwright

Director of Marketing Communications

Atheer, Inc.

p: 425-502-2028

Website: https://atheerair.com/

Toshiba Press Contact

Eric Paulsen, 949-583-3541

Marketing Manager

Toshiba America Information Systems, Inc.

p: 949-583-3541

Website: https://us.toshiba.com