Make room in the C suite for a new player — the Chief Augmentation Officer (CAO). Over the past two decades, many organizations have added roles such as the Chief Learning Officer (CLO), Chief Revenue Officer (CRO) and Chief Privacy Officer (CPO). There is a really good reason why you could soon start to see the arrival of the CAO: productivity, or the lack of it.
The C Suite executive responsible for Augmented Reality may not actually be called a Chief Augmentation Officer (please do forgive a little poetic license!), but I believe that in every major industrial enterprise, there will be someone in senior leadership responsible for delivering and growing the transformative power of AR in the organization.
The Productivity Paradox
The real business driver for Augmented Reality lies in the desire by enterprises around the world to solve the Productivity Paradox.
This idea behind this paradox is simple.
Despite several decades of massive investment in digital workplace technology (Gartner projects that Worldwide IT spending will be $3.74 trillion in 2019 alone), the Organisation for Economic Co-operation and Development (OECD) reported in April 2019 that labour productivity growth is actually stagnating in most OECD economies - and now sits below 1%.
Much of the existing investment in workplace technology has focused on process improvements in white collar jobs, while providing automation technologies in service and manufacturing scenarios. There have been clear benefits to these investments in many cases, but the flattening of the yield curve for them is clearly illustrated in the OECD figures shown below: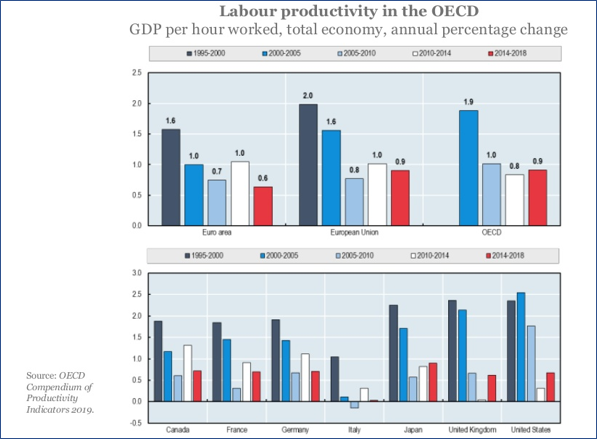 The causes of this stagnating productivity growth, however, go beyond the law of diminishing returns. In fact, they boil down to the increasing difficulty that most enterprises face in dealing with:
The accelerating velocity of commerce, innovation, and competition;

The growing complexity of products, services, and supply chains;

The increasing connectedness and interdependence of enterprise systems;

And the growing scarcity of expertise, talent, knowledge and time.
This is where the potential for AR lies — by shifting from simply automating processes to augmenting both people and processes, industrial enterprises have the potential to realize new and significant productivity growth.
AR will Change the Way Work is Performed
The link between productivity growth and enterprise AR is underscored by recent research from Emergence Capital, which concluded that the majority of the world's workforce who do not sit at a desk have largely failed to benefit from the digital technology that has transformed the working lives of those in traditional office jobs.
"These individuals make up the Deskless Workforce — a 2.7 billion-person strong portion of the global working population," concludes the report. "Despite being 80% of the workforce, these workers have been forgotten and overlooked by technology providers. Traditionally, little of the $300 billion that is spent on business software each year has gone to these workers."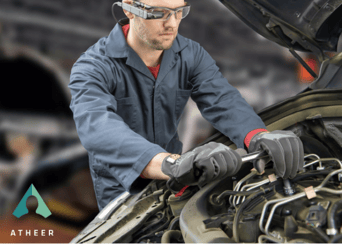 And that's where Augmented Reality comes in. Delivered using mobile form factors — including smartphones, tablets, smart glasses and laptops — enterprise AR offers the potential to deliver transformative workforce change to this deskless workforce.
AR sits on the cusp of becoming a ubiquitous enterprise technology that will be at the core of what many major industrials do - and become a key driver of productivity growth. It will be a truly empowering force that integrates with all major existing foundational enterprise systems across the organization (including ERP, PLM, CRM, SCM, LMS and WMS) and will augment the capabilities of every worker— whether they are on the shop floor, sales, service, HR, training, logistics or fulfillment.
The promise of AR in the industrial enterprise is well-documented. International Data Corporation (IDC), for example, recently predicted massive growth in worldwide spending on augmented reality and virtual reality between now and 2023.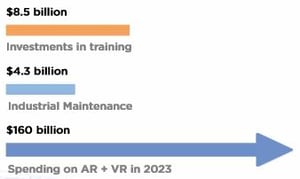 IDC projects that spending on training to support commercial use cases, for example, will reach $8.5 billion while industrial maintenance will hit $4.3 billion.
Tom Mainelli (IDC's group vice president of Devices and Consumer Research), says that he sees the growth in enterprise AR from a "wide variety of companies leveraging next-generation hardware, software, and services to fundamentally change existing business processes and bringing new capabilities to first-line workers who require hands-free technology."
Any Fundamental Business Change Requires a Voice in the C Suite
If you are going to introduce, encourage and make the most of a technology that will "fundamentally change existing business processes and bring new capabilities to first-line workers who require hands-free technology", you will require the involvement and alignment of your C-suite executives.
This involvement could be driven by a Chief Augmentation Officer, an AR Steering Committee (on which one or more members of the C Suite could serve) or AR-related functional roles within the organization which report to members of the C Suite.
In addition, our experience in working with global industrial enterprises — including leading players in the aviation, automotive, mining, manufacturing and telecommunications sectors — suggests that the business benefits of AR technology are not confined to smart glasses.
Front line and deskless workers — and the enterprises they work for — will definitely see benefits from implementing AR using specialized hardware (such as monocular or binocular smart glasses) which allows immediate hands-free access to rich, interactive content and digital collaboration capabilities in their field of vision. They will, however, also achieve significant benefit by gaining access to AR applications that run on the hundreds of millions of mobile phones, tablets, and laptops that are already deployed across businesses.
To realize the vision of AR that is enterprise-wide, device agnostic and capable of augmenting the work of any employee in any role in the company will require sponsorship, direction and coordination from someone sitting in a C-suite role (or closely coordinating with the C Suite) who has the budget, the span of control and the mandate from the top to do so.
Large technical transformations at industrial organizations have never happened without a voice in the C suite. So make room for Augmented Reality!!