New CEO brings wealth of experience in enterprise-grade, cloud-based collaboration solutions and managing growth as company undergoes significant expansion
MOUNTAIN VIEW, CA, OCTOBER 9, 2018 - Atheer Inc., a leader in enterprise augmented reality (AR) solutions and pioneer of the world's first Augmented Reality Management Platform (ARMP) for industrial enterprises, today announces the appointment of cloud enterprise software pioneer and entrepreneur Sanjog Gad as the company's new Chief Executive Officer.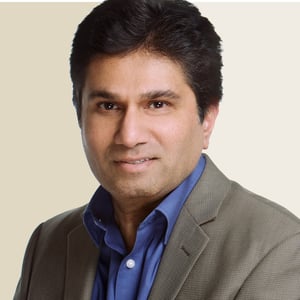 Sanjog Gad joins Atheer to manage its hypergrowth , as the company gains significant traction with enterprise customers, doubles the size of its team, deepens its senior leadership bench, moves into new, larger offices in Santa Clara, California and expands into new markets in Europe, Latin America and South America.
Sanjog said he is excited by the huge opportunity Atheer has, to augment and transform enterprise business processes by leveraging industry's first Augmented Reality Management Platform (ARMP), which was announced today. "Atheer is in a unique position, as no vendor has taken a step back and provided a blueprint to properly realize the promise of enterprise AR - and that's what we are doing," he added.
As Senior Vice President at enterprise software giant SAP, Sanjog was responsible for first ever cloud native Platform as a Service on Amazon Web Services - and all SaaS applications built on that platform.
Prior to SAP, he held senior positions at EMC, Microsoft, WebEx (where he was one of the early team members and responsible for leading development of the highly scalable and fault tolerant WebEx backbone) and Baan (where he was a founding member of the core engineering team). With this experience, Sanjog brings the insights and experience he has gained from working at the forefront of enabling a business-critical, cloud-based platform for enterprise customers. Sanjog also has successful start-up experience gained at Efficient Frontier (acquired by Adobe) and Fishbowl Marketing Analytics (acquired by a private equity firm).
"With his deep industry experience, keen understanding of the needs of the enterprise market and proven track record of leadership, Sanjog Gad is the right person to guide Atheer through its next stage of development and growth," said Bobby Yadzani, chairman of the board of Atheer. "Sanjog pioneered the market for cloud enterprise applications during his time at SAP and drove the growth of development of enterprise collaboration company at WebEx., We are delighted to welcome him to Atheer."
About Atheer
Atheer is the Augmented Reality Management Platform company for industrial enterprises. Founded in 2012, Atheer provides the only enterprise grade solution for contextual work guidance, remote collaboration, and natural interaction across glasses and mobile devices. Global brands such as Porsche, Masimo, and others use Atheer to empower their workers, deliver higher productivity, and enhance their safety wherever they are.
Atheer is designed to improve the productivity, quality, accuracy, and safety of industrial workers. Atheer's award-winning platform provides "See What I See" video collaboration and work instruction management to empower the 21st century workforce in areas such as Automotive, Industrial, Logistics, Manufacturing, and Transportation.
Powered by 62 issued patents - and validated with key customers including Masimo, Flex, Porsche Cars North America and other leading enterprises - the Atheer platform provides an out-of-box solution for enterprises. It is one of the most hardware-agnostic Augmented Reality platforms available for the industrial enterprise, with announced support for solutions using Windows 10 (on the Toshiba dynaEdge™ AR Smart Glasses), a range of Android-based smart glasses and head-mounted devices (including those offered by ODG, Epson, Vuzix, RealWear) Samsung's popular S2 and S3 tablets and the Safari browser on Apple iPhones and iPads.
Visit AtheerAiR.com or follow us on Twitter @atheerair.