Multi-person video collaboration now shipping on Atheer, building on recent introduction of Guest Expert support to further enhance capabilities for enterprise supply chain AR enablement
VANCOUVER, BC, CANADA, SEPTEMBER 21, 2018 – Atheer Inc., a leader in enterprise augmented reality (AR) solutions, today announced during the the VR/AR Global Summit that it is shipping the latest version of the Atheer AR platform, aimed specifically at supporting the unique AR needs of enterprises and their supply chains.
It introduces secure group collaboration for multiple remote experts - within the enterprise and across the supply chain - to provide live video guidance and support and share key content (such as work instructions).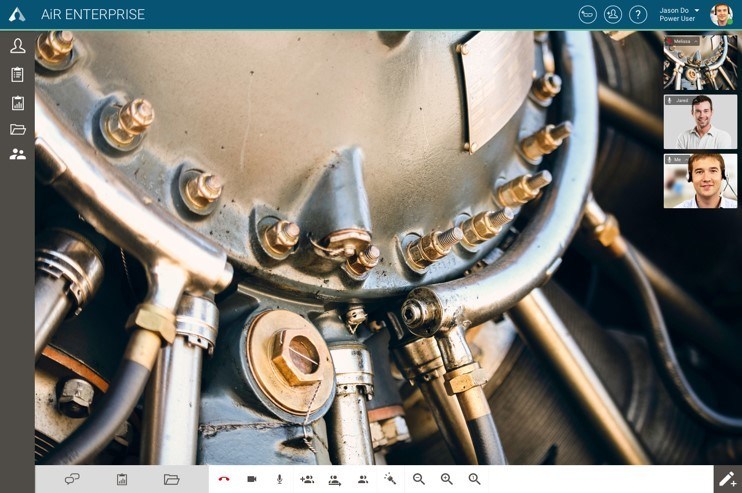 "Our customers are excited about the delivery of these important new capabilities within Atheer," said Atheer Chief Operating Officer Amar Dhaliwal. "Being able to extend the ability to make and receive 'see what I see' video calls and share work instructions beyond enterprise boundaries empowers customers to realize the significant and measurable benefits of enterprise AR in a way that just hasn't been possible before now." Enterprise AR platforms need to allow workers to bring the right expertise to a problem at the time of need, regardless of where that knowledge lives across an enterprise's supply chain. This is a critical business competency and a vital differentiator for enterprises who excel and grow rapidly. With the addition of multi-point collaboration and group calling, Atheer users can now securely bring in multiple remote experts (from within the enterprise and across the supply chain) to troubleshoot problems over live video.
This means that "guest experts", as well as users from within the enterprise, can be on a three-way call and any of them can share documents, provide annotations to live captured images and bring their insight and expertise to troubleshooting an issue.
This is of huge benefit in situations where multiple suppliers from the customer's supply chain are responsible for different elements of a complex piece of equipment or process and provides the enterprise with the power to drastically reduce the time and cost needed to arrive at a solution. Industries that stand to benefit from this capability include aerospace maintenance, repair and operations (MRO), manufacturing, automotive, construction, consumer packaged goods, and any business that provides field or dealer service.
Visit Us at VR/AR Global Summit
To schedule a demo of how Atheer enables secure collaboration for remote experts, visit us at Booth #601 at the VR/AR Global Summit September 21st and 22nd in Vancouver, B.C., Canada.
About Atheer
Established in 2012, Atheer produces an enterprise-grade, Augmented Reality platform that is cross-platform across computing devices and operating systems - enabling the provision of contextual, predictive and prescriptive guidance, remote digital collaboration, digital asset management and performance analytics using a natural, multimodal interaction paradigm.
Our products are designed to improve the productivity, quality, accuracy, and safety of industrial workers. Atheer's award-winning platform provides "See What I See" video collaboration and work instruction management to empower the 21st century workforce in areas such as Automotive, Industrial, Logistics, Manufacturing, and Transportation.
Powered by 60 issued patents - and validated with key customers including Masimo and Porsche Cars North America - the Atheer platform provides an out-of-box solution for enterprises. It is one of the most hardware-agnostic Augmented Reality platforms available for the industrial enterprise, with announced support for solutions using Windows 10 (on the new Toshiba dynaEdge™ AR Smart Glasses), Microsoft HoloLens, a range of Android-based smart glasses and head-mounted devices (including those offered by ODG, Epson, Vuzix, RealWear) Samsung's popular S2 and S3 tablets and the Safari browser on Apple iPhones and iPads.
Visit AtheerAiR.com or follow us on Twitter @atheerair.
Atheer Press Contact:
Geof Wheelwright, Director of Marketing Communications: gwheelwright@atheerair.com