Once again, Atheer has been lucky enough to be nominated in the Augmented World Expo's annual Auggie Awards for the "best-of-the-best" in Extended Reality (XR) in the Best Enterprise Solution category.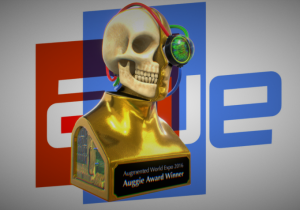 It's the second time in the last three years that we've been nominated in this category - and we won when we were nominated in 2016! The award winner will be announced during the Augmented World Conference and Expo being held in Santa Clara between May 30th and June 1st.
One of the cool things about this award is that it is that public voting results are used to select the five finalists in each of the 10 active Auggie Award categories! The deadline to vote was May 17th. Thanks to all who voted!
We are nominated vote in the Best Enterprise Solution category. We have learned a great deal over the past six years about what is needed to create, sell and support a really great cloud-based enterprise Augmented Reality (AR) solution. So here are our top three reasons why we are excited about being nominated for AiR Enterprise:
* We believe in being cross-platform and ubiquitous - AiR Enterprise is one of the most hardware-agnostic Augmented Reality solutions available for the industrial enterprise, with announced support for solutions using Windows 10 (on Toshiba's dynaEdge™ AR Smart Glasses), Microsoft HoloLens (through our unique partnership with Design Interactive and its AUGMENTOR application), a range of Android-based smart glasses and head-mounted devices (including the RealWear HMT-1), Samsung's popular S2 tablets and all future devices based on the Flex AR reference design (announced in January at the Consumer Electronics Show).
* We believe in security, scalability, robustness, configurability and the need to integrate with key enterprise technologies - such as our implementation of single sign-on standards and support for Cisco Spark collaboration tools.
* We provide insight - We are starting to see the value of business insight data from "taskflows" - the trackable, step-by-step instructions that can be delivered to users of AiR Enterprise on any supported smart glasses. For any enterprise customer that relies on working through compliance checklists or needs to follow very specific processes, there's huge value in using taskflows.
Last year, for example, we explored how AiR Enterprise checklists can be used in the aviation industry for pre-flight inspections. World-renowned helicopter pilot Chuck Aaron, the only US pilot licensed by the FAA to perform aerobatics in a helicopter, recently reviewed how he is able to use AiR Enterprise and taskflows for these inspections.
Those are just a few of the reasons why we believe our AR solution is right for enterprise customers.