The Atheer survey team interviewed 173 respondents at the recent Augmented World Expo 2019 Conference and Exhibition in May 2019 and discovered almost 70 percent were already exploring AR to improve service operations.

As part of Atheer's ongoing research work into how enterprises view - and plan to use - AR solutions, we dispatched our research team to interview attendees at the three-day AWE 2019 Conference and Expo in Santa Clara, California from May 29 through May 31. The team spoke to 173 attendees about how they view the impact of Augmented Reality in the Enterprise - and the ways in which it might make a difference in meeting the business needs of their organizations.
Strong Interest in Enterprise AR
Given that AWE is all about VR and AR solutions, it will come as no surprise that there was a strong interest in enterprise AR - underscored by the heavy traffic Atheer saw at our own booth, after taking home the award for Best Enterprise Solution at the event.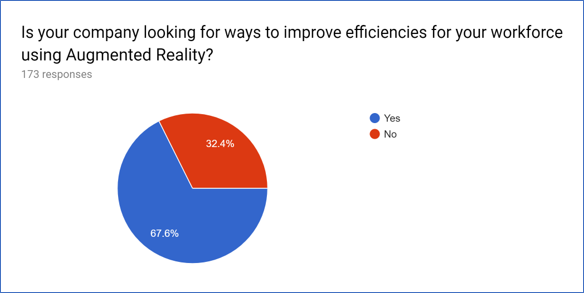 For example, some 67.6 percent of respondents said they were looking for ways to improve efficiencies for their workforce using AR.
A Broad Range of Industries Interested in AR
What is more interesting, however, is the range of industries that were drawn to AWE - from manufacturing to automotive to health care. In fact, attendees from so many industries - including utilities and energy, warehousing and logistics, hardware technology, insurance and defense - that our results have a big slice (some 40%) just called "other" because there wasn't room on the chart to show all the individual industries represented!!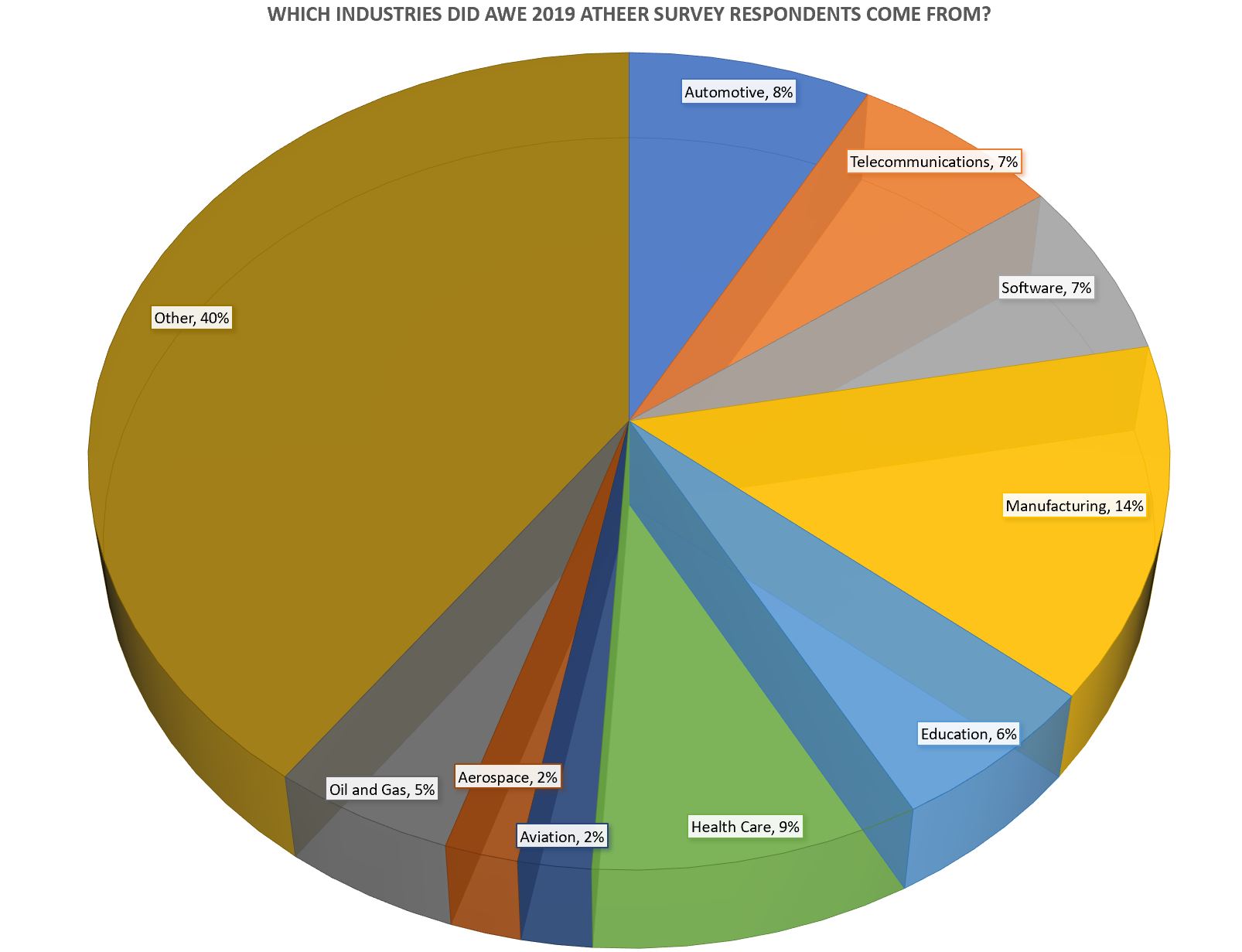 Note that the single biggest named industry in this chart is manufacturing - whose representatives made up 14% of our respondents. That also accords with much of the feedback we heard from visitors to the Atheer booth, which typically included questions about how AR could help their business reduce costly downtime - as well as make more effective use of their skilled, experienced, and scare workers who troubleshoot manufacturing equipment by allowing them to help more field technicians in more facilities without having to travel.
There was also strong interest in how the digital delivery of work instructions can provide more effective on-the-job support and training for service technicians as they work on ever-newer and more complex equipment in their manufacturing facilities.
Speeding Up Resolution Times is Number One Challenge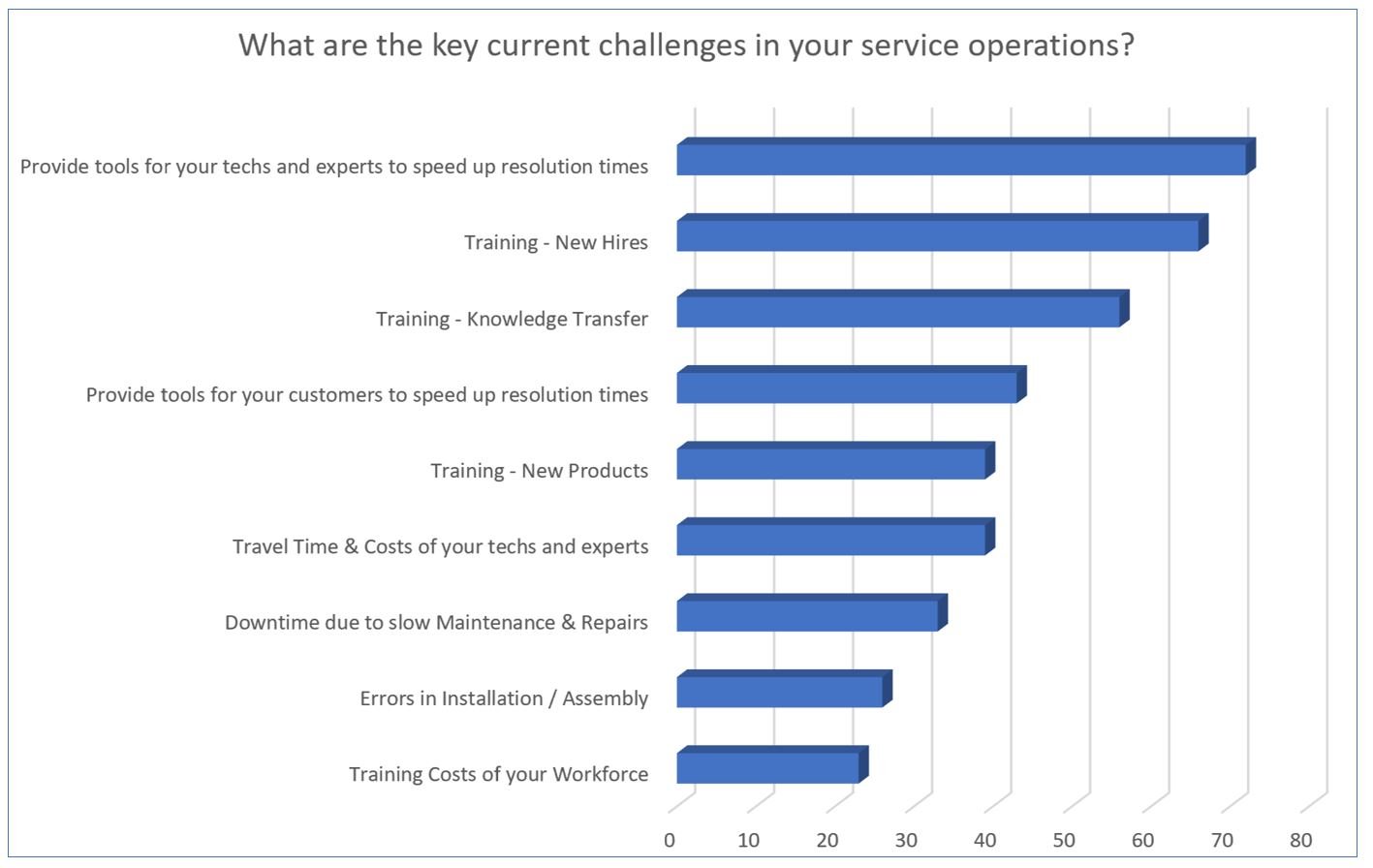 This insight is really interesting. We asked respondents to name the current challenges they see in their operations - and we didn't restrict their answers to one reply. Here are the many responses we received in each category.
There were also a few responses in a free form text category, where respondents could enter their own descriptions - and they shared that they were concerned about developing better strategies for learning, getting information to employees, improving safety, handling security, building and maintaining trust, creating awareness (of how to deliver better service), getting their employees the components they need when they need them, effective collaboration, research, content development, automation, design and a handful of other issues.
Interest is High
Again, not surprising for an audience at Augmented World Expo (AWE), there was a high percentage of respondents that said their enterprises were already exploring how AR could be used to improve service operations.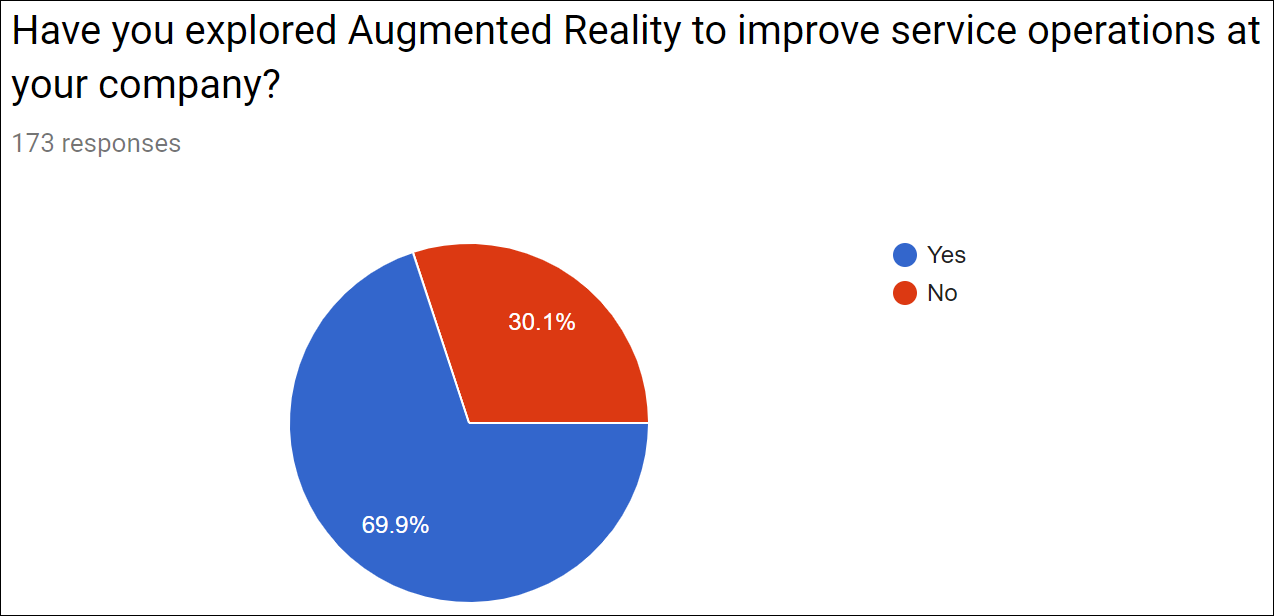 Yes to Enterprise AR, but When?
As longtime observers of the AR market will know, the big question for most of the industry is: when we will start to see broader adoption for AR by enterprises? The answer to this question about whether and when respondents want to start exploring AR was illuminating.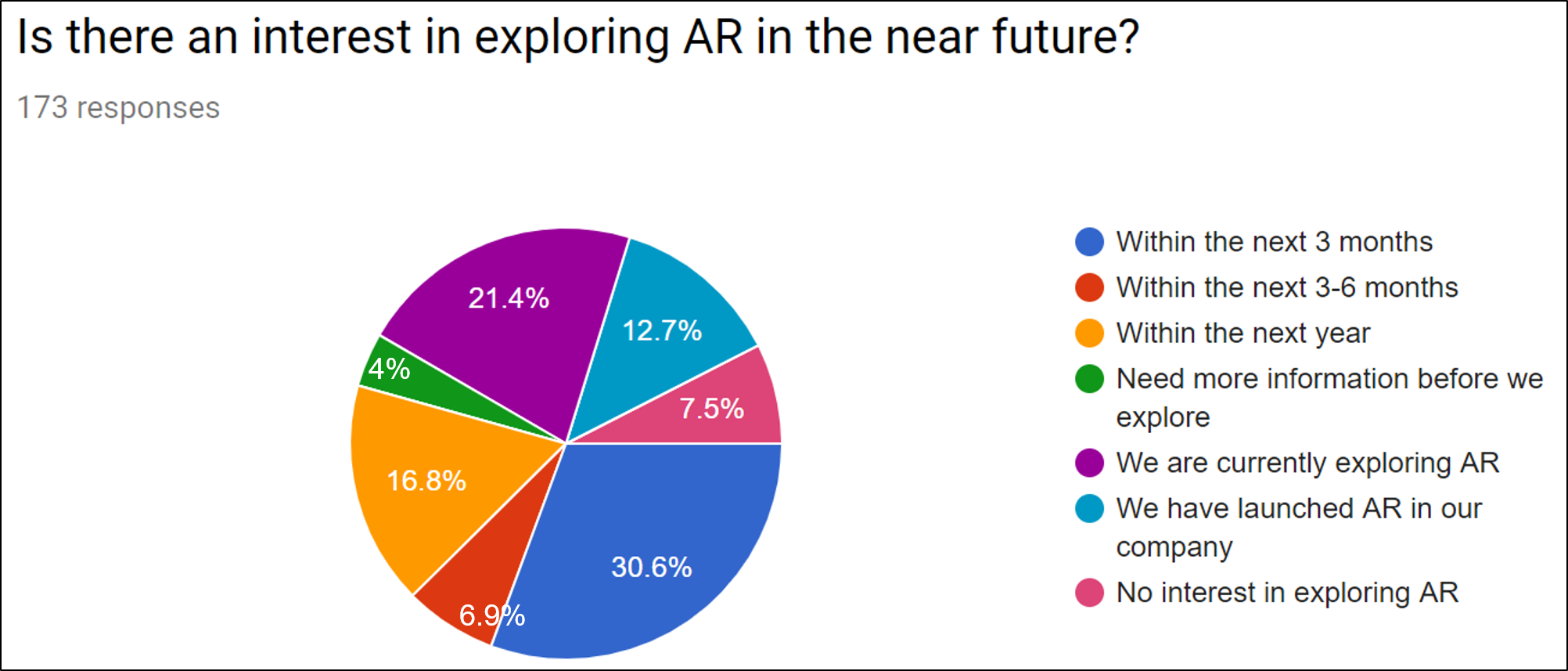 Only 7.5% of respondents said they had no interest in exploring AR for their organization - and a mere 4% said they would need more information first. And the rest - 88.5% of respondents - said they were either exploring AR now or would be doing so within the next year.
There does seem to be some nuance here from respondents given that 69.9% of respondents said they were already exploring AR in the previous question and that only 34.1% of question respondents said that they were either exploring AR or had launched AR in their company. But regardless, it is a healthy number of enterprises that are - or will be - exploring AR in the coming months.
Wanting to Know More
The last question we asked was whether respondents wanted to know more about Atheer's own AR platform, particularly in the context of field service (a primary use case and an area around which we have seen high interest and demand).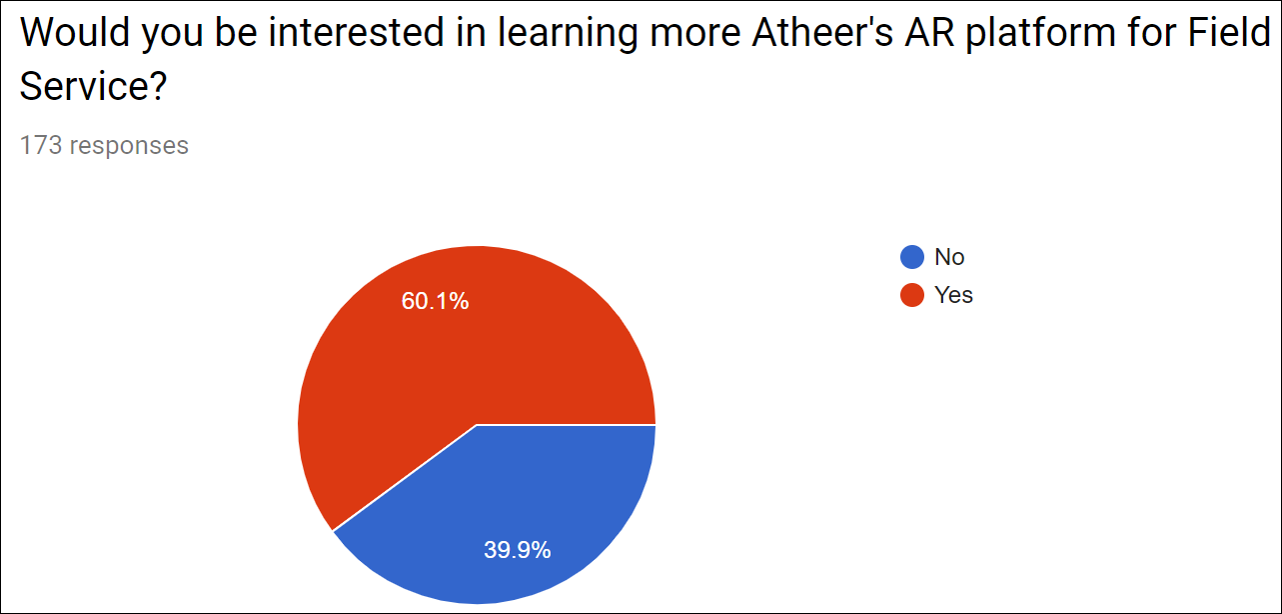 Again, given the audience, it was not a surprise that a healthy majority of the people answered this question affirmatively.
What Does it All Mean?
These results suggest that analyst predictions for healthy growth in the enterprise AR sector are well-founded. The fact that significant numbers of enterprises in the Manufacturing, Telecommunications, Health Care and Automotive sectors are sending people to conferences about VR and AR suggests that we are moving beyond the tire-kicking phase and that we are now in a stage where we will start to see broader adoption.
Even more telling is the fact that most of the survey respondents seem pretty clear about the use cases that appeal to them - and the business benefits they expect from it. And finally, everyone in the enterprise AR sector should be encouraged by the high proportion of customers planning to start their AR journey very soon (within the next year).
This survey is part of ongoing research into enterprise AR that is regularly conducted by Atheer - we also recently surveyed attendees of the Field Service USA conference (you can sign up to see those results here) and we also conducted our own AR Readiness Survey late last year.
Sign up to receive the results of our ongoing research as it becomes available by becoming a free Atheer AR Research Subscriber. We'll just need your name and work email address and you will be all set to receive the latest and greatest of the findings from our ongoing research initiatives.