As we promised in Part 1 of our two-part AR Predictions for 2019 series, we are making some new predictions about the future of Augmented Reality for the coming year, and check in with what our friends in the technology analyst community are predicting as well.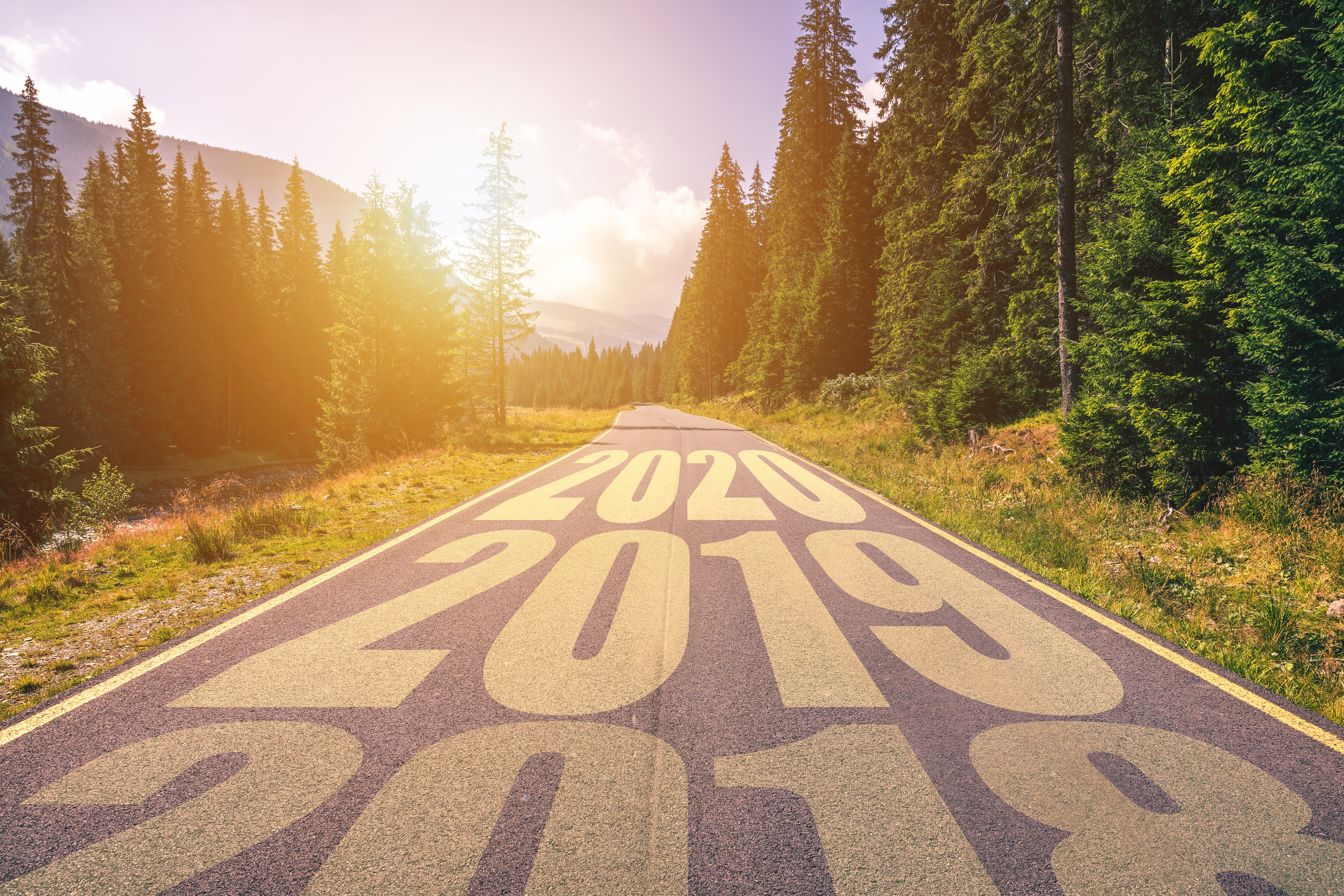 So here are our Top 5 predictions for the coming year.
There Will Be More Change on the Hardware Front
Producing Augmented Reality hardware - and particularly smartglasses - is a tough business. It requires deep pockets, a commitment to innovation, the ability to go as slowly as your customers need to go - and then to ramp up (with quality and reliability) very, very quickly when and if demand hits.
None of those requirements are easy to meet - or maintain. So we expect that we will see new players enter the market with exciting new options in 2019 - and some players drop out because they either don't have the cash to scale their operations or they don't innovate quickly enough to meet the demand for devices that are faster, have longer battery life, higher-resolution cameras and better displays.
It's also hard to say what the impact of global trade volatility will be, as the United States, China and the European Union all work to resolve a growing range of trade disputes that could, for example, drive up the cost of AR hardware components manufactured in China. Writing recently in TechCrunch, Tim Merel (managing director of research firm Digi-Capital) said that Chinese companies have made massive investments in computer vision and augmented reality. He reported that those investments totaled more than $3.9 billion in the last 12 months.
It will be important for any enterprise planning an investment in augmented reality to ensure that the solutions they choose are "device agnostic" and can weather whatever changes hit the hardware market.
Mobile-First, But Not Mobile-Only
As we saw in the results of our recent 2019 Enterprise AR Readiness Survey, enterprise AR customers are very interested in deploying augmented reality on mobile devices such as tablets and smartphones - but they don't plan on limiting their deployments to those devices. When asked which devices their organization would use to deliver AR solutions - more than half of those surveyed did not just pick a single platform.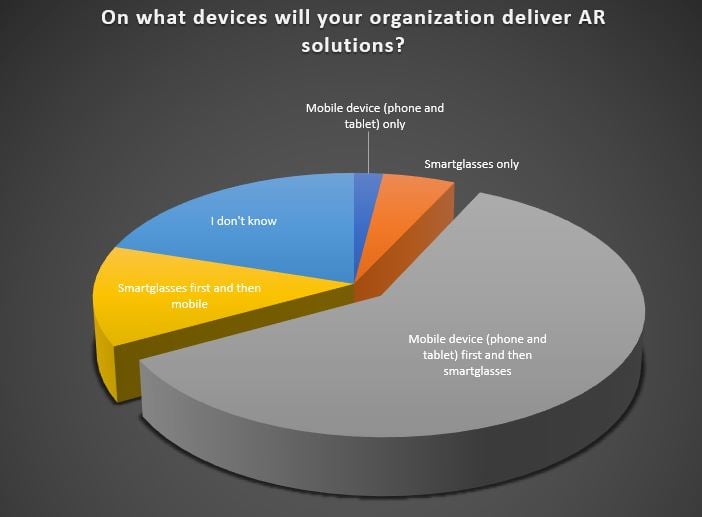 In fact, 57.69 percent of all respondents said they will deliver AR solutions on mobile devices (ie. tablets and smartphones) first and then offer enterprise AR on smartglasses. A much smaller group of respondents (12.5 percent) said that they would deliver on smartglasses first and then mobile devices.
This result very much aligns with the "mobile-first" strategy we recently outlined as part of our new Augmented Reality Management Platform (or ARMP).
The idea is that enterprises need to be able to leverage existing investments in hardware, connectivity, device management and security – all with the knowledge that the value of their cloud-based AR Management Platform will continue to grow and evolve as they take advantage of new AR hardware and operating system enhancements.
In broader industry terms, we predict that this trend will encourage increasing numbers of AR enterprise software developers to move in the direction of producing solutions that run on smartphones and tablets using Apple's iOS and Google's Android operating systems - and leveraging the ARKit and ARCore development frameworks. All software companies want to develop for the largest potential customer base - and targeting smartphones and tablets provides a much bigger possible range of target devices than solutions aimed solely at smartglasses.
Enterprise AR Customers Will Go Public
This one is interesting. Over the last year, we have seen how many traditional industrial enterprise customers have wanted to stay in "stealth mode" about their work in piloting and experimenting with augmented reality solutions. The result has been that you see relatively few stories about named companies using AR to change the way they work.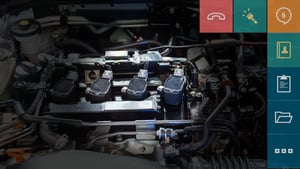 The reasons these companies typically didn't want to go public about their AR work was simple: they wanted to make sure that it worked and get internal buy-in before declaring to the world that they were committed to AR. In many cases, they also wanted to ensure that they didn't give a heads-up to their competitors about the pioneering work they were doing.
We predict that in 2019, that will be flipped on its head. Companies will go from being shy about talking publicly about their AR work to wanting to shout it from the rooftops as their customers and investors become more and more aware of how AR has the potential to make a big difference in their business.
They will do so because those same customers and investors will demand it. Customers will want to know why they can't benefit from the use of AR to meet their needs and investors will want to know why the company they are investing in doesn't seem to have the same kind of commitment as the company's competitors. And executives in the "C-suite" will also begin asking their teams "what are we doing in AR and when will it be ready to use".
Data from AR Projects Will Become Even More Important
As enterprises begin to adopt AR and see their early benefits of features such as remote collaboration and work instruction delivery, they will also begin realizing that one of the biggest benefits of AR will be achieved when they have been using it long enough to generate significant data about the effectiveness of their workforce.
Real business insights will be achieved by enterprises generating data on how workers are using their Augmented Reality Management Platform (ARMP) and then using analysis of that data to optimize their business processes and work flows.
AR in Government
Governments are often the most conservative adopters of new technologies, with a few key exceptions. One such exception is the military, which pioneered many vital new technologies in Defense Advanced Research Projects Agency (DARPA). DARPA is credited with seeding the work for many important advances, including the internet itself.
So it should come as no surprise that we predict that the US military will continue to drive and support innovation in augmented reality. A clear indication of that commitment came in November 2018 when Microsoft announced that it had won a contract with the United States Army to supply them with 100,000 HoloLens headsets in an contract worth just shy of $480 million.
Now for Predictions from Our Analyst Friends
Those are our AR predictions for 2019. We aren't the only ones in the AR-prediction business, however, so we thought it also might be useful to share predictions from our friends in the analyst community.
From Gartner
In a recent interview posted as part of the "Smarter with Gartner" series, principal research analyst at Gartner Tuong Huy Nguyen highlights what he sees as some of the ways in which augmented reality for enterprise is on pace to expand more quickly than virtual reality for consumers.
"AR in the enterprise, however, will see some early successes and gain traction more quickly than general consumer AR," he reports. "These solutions will be purpose-built to address a business need such as the ability to draw on a screen or moving image during a remote meeting or presentation, architectural walkthroughs, or be used in controlled environments where devices need industrial certification or device resilience."
From ABI Research
According to market-foresight advisory firm ABI Research, the AR market is expected to grow fast over the next few years. It predicts that the total AR market value is expected to reach US$116 billion by 2023, spread across devices, software, content, platforms, licensing, connectivity, and more.
In his observations, principal analyst at ABI Research Eric Abbruzzese does seems to concur with our survey's conclusions about how the manner in which enterprise customers think about AR hardware may be shifting.
"While the potential of the technology remains significant and revolutionary—with applications from enterprise to consumer, mobile to head-worn—the trajectory the augmented reality market is following has shifted over the past year," he says. "What was once driven by hands-free information access and strong visualization capability, is now split between maintaining this hands-free capability or leveraging mobile devices for the AR visualization component of the story, which alters not only the primary device type being used for AR but also the content, use cases, and applications being leveraged."
From IDC
International Data Corporation's conclusions in the December 2018 update to its Worldwide Semiannual Augmented and Virtual Reality Spending Guide compares how it predicts spending on AR and VR will split out in 2019.
IDC observes that the only commercial use case to crack its predicted "Top 4" list for 2019 will be training (which it predicts will be worth $1.8 billion), but it also cites two other commercial applications – online retail showcasing ($558 million) and industrial maintenance ($413 million) – that it says will become firmly established in 2019.
That prediction very much aligns with what we saw from our own 2019 Enterprise AR Readiness Survey - where 54 percent of respondents cited training as the place where they saw the biggest potential use for AR, 40 percent identified the remote assessment and damage inspection use case, 38 per cent said they saw value in working with AR for manufacturing, assembly and quality control and 36 per cent for internal maintenance and repair operations (respondents could choose multiple use cases).
IDC also made a longer term predication that industrial maintenance spending will show a five-year Compound Annual Growth Rate of 119.2% - and that it will will nearly overtake augmented reality gaming in 2022.
See You Next Year
Those are our predictions for 2019 - and the predictions of some of the analysts we have been privileged to talk with this year. We hope you enjoyed them!